A GUIDE TO FOUR WAY-MARKED TRAILS
WEST WATERFORD, IRELAND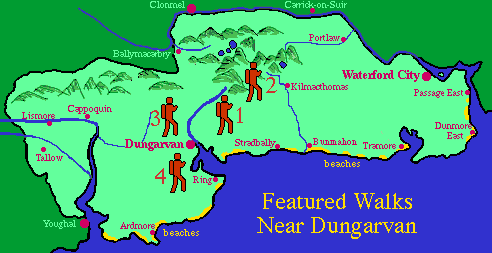 Click on Map for more details about each walk.
Trails 1 and 4 are short trails and 2 and 3 are of medium length.
All the routes have been marked at the start and succeeding intervals with special signposts. Walkers should use the maps in this guide in combination with the signposts. Take note that signs may be missing, or not readily visible from season to season necessitating reliance on the maps or indeed guesswork.
The narrative accompanying each trail gives:
a description of features of interest that may be seen
the location of the walk in relation to the town of Dungarvan
an outline guide to following the trail
the distance in miles and kilometres.
the estimated time required to complete the walk
suggested options to those indicated on the maps
Note: the time allowance assumes a leisurely pace, but takes no account of resting or any other delays.
Find the Walks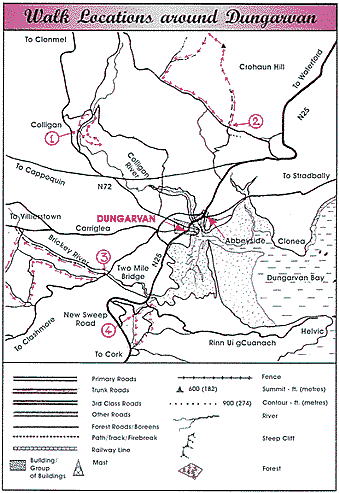 THE COUNTRY CODE