Recreational activities available at the Coole include a pool table, table tennis (ping pong), sandbox, toddler's playroom, and a volleyball field.
Ye Olde Swimmin' Hole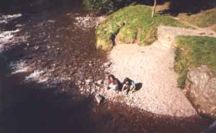 Within three hundred metres of the Coole Country Cottages is the rich salmon and trout fishing Colligan River. Permits are available at Coole Country Cottages. A 4 minute walk brings you via a secluded path to the river. A one mile walk on forest paths through the neighboring forest leads to Colligan Falls and the rapids and deep river pools of Salmon Leap.
Popular for splashing around - and for taking wedding photos - is the small sandy beach below the Wooden Bridge. On a warm summer day, a more relaxing spot is not to be found - anywhere!
Clonea Beach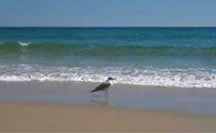 A ten minute drive brings you to what is universally acclaimed as the finest beach for 50 miles in either direction. Clonea Beach is wide, more than a mile long, slopes gently and high tide washes the whole place crystal clean. It is a popular place, so there are hamburger stands and kayak rentals and suchlike diversions for the kids. But, by popular we mean several dozens of families on a hot summer weekend - not thousands!
E-mail: info@waterfordcottages.com Telephone: +353 - (0) 58-41321
Coole Country Cottages © 2001