Fishing in the Colligan River
The Colligan River is one of the fastest flowing rivers in Europe. A one mile walk on forest paths through the neighbouring forest leads to the river, the falls at Salmon Leap and the rapids and deep river pools of this lovely stream.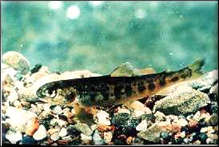 There is a rich salmon and trout fishing in the Colligan river. The river holds both salmon and sea trout. A sea trout can weight from 1lb to 12lb, salmon 8lb to 25lb. The river gets a run of grilse (young salmon) in July, larger salmon in September.
In June, July and August fly fishing is the best method. Flies used are Jock Scott, Peter Ross, teal blue and silver.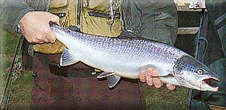 Spinning is allowed in high or flood waters. Fishing sites are being currently developed along the banks of the Colligan river. At least 6 suitable sites will be developed by late 2000. Fishing is controlled by the local Angling Club and permission must be sought. Enquiries on fishing and permits can be obtained from Coole Country Cottages or Bouman's Jewellers, Main Street, Dungarvan.

| | |
| --- | --- |
| Open Season | March 17th to September 30th |
| Trout Season | March 1st to September 30th |
| Salmon and Sea Trout | February 1st to September 30th |
Angling Methods for salmon & sea trout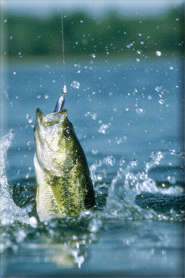 Spinning and fly fishing are the methods used for salmon and grilse. In the early part of the year and when the river is in spate, the following give good results for salmon. Fly 'C' in various colours, Devon Minnows - blue and silver, black and brown, brown and gold - sizes 2" - 21/4", Aby Toby - copper, blue and silver - sizes 12 - 20 grams.
Later in the year, smaller baits, Flying 'C' spinners, devons, quill minnows etc are more effective. When the river level begins to fall after a spate, the fly becomes a realistic alternative to the spinner and worm, on several notable pools, Grilse are regularly taken on the fly at dusk in fast runs and are sometimes hooked by anglers night fishing for sea trout. Consequently, it is recommended that you fish with a leader of at least 6lbs breaking strain. Also to be taken into account is the fact that there may not be a lot of room to play a fish on some pools. Fly hook sizes of between 8 and 14 doubles and trebles, depending on the water condition, are advised.
In spate conditions, running sea trout are taken on small spinners and worms.

Fly Fishing for Sea Trout
Daytime Angling

Fly fishing for sea trout during daylight hours is an extremely delicate art and great care must be taken to avoid disturbing the fish. Use all available cover and fish from as far away as possible. The best conditions are immediately after a spate when the water level is dropping and the colour is becoming clearer. Large showy flies on a sunk line are most effective in those conditions. At normal or low water conditions, a single fly, size 14 - 18 should bring success to the angler with a stealthy approach to the lies of the sea trout.

Evening and Night Angling

Night fishing has an attraction all of its own and between dusk and midnight can be a very productive time, particularly when the river is low and clear. Sea trout will continue to enter the tidal pools even in low water particularly around the time of the spring tides and if the incoming or receding tides coincides with dusk, the fishing can be expected to be excellent.
In the colder water of spring, dark flies such as the Teal, Blae and Black, Black Pennell or Bibio account for many fish but as the temperature rises and the river levels tend to be lower, brighter flies such as an Alexandra, Butcher IIen Blue, Muddlers, Teal Blue and Silver or Peter Ross come into their own
Warm evenings with high or rising barometric pressure and light cloud cover are the ideal weather conditions for night fishing.
With luck, you'll catch sight of river otters, geese, herons, red squirrels and mule deer. They're all here!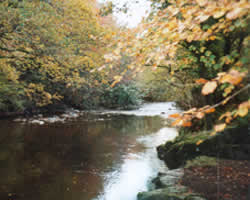 E-mail: info@waterfordcottages.com Telephone: +353 - (0) 58-41321
Coole Country Cottages © 2001